President's Message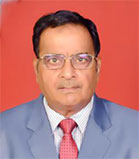 From President's Desk

"Arise, awake and stop not till the goal is reached."
Kanpur Vidya Mandir Mahila Mahavidyalaya has completed thirty seven years of its fruitful existence since its inception in 1984. The college is housed in a magnificent building situated in the heart of the city in Swaroop Nagar, Kanpur with state of the art infrastructure. The college is well known for higher education of girls in the disciplines of Arts, Science and Commerce with innovative teaching pedagogy, group discussion, students debate and seminars, presentations by students, role plays, case analysis and assignments as a part to the curriculum taught in the college.
The college is not just imparting academic inputs but is also providing training on developing skills in order to well equip students with modernisation and innovative technology required to face the challenges to meet the expectations of the ever changing and emerging environment of the society and corporate world in particular and nation in general.
The college for the first time in January 2009 ventured for NAAC Accreditation and the college was accredited as "A" grade college by NAAC. Since then college has never lagged behind in the matter of NAAC Accreditation and even today the college is one "NAAC Accredited College" of Chhatrapati Shahu Ji Maharaj University (Formerly Kanpur University), Kanpur.
The college is having its own website "www.kvmpgcollege.org.in" and the website of college nicely showcases the faculties and academic departments functioning in the college, past achievements of the college, details of faculty members and infrastructural facilities available in the college e.g. lift for going upto second floor, generator facilities, hot and cold water facilities, auditorium and seminar halls available in the college etc.
I wish Kanpur Vidya Mandir to grow in future with leaps and bounds and a grand success to all stake holders of Kanpur Vidya Mandir in their future endeavors.
Prof. R.C. Katiyar
President