President's Message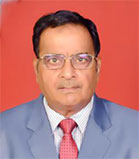 From President's Desk

We dream of a world where,
the mind is without fear;
We dream of a world,
where the clear stream of reason has not lost its way.....,
Kanpur Vidya Mandir Mahila Mahavidyalaya has completed thirty seven years of its fruitful existence. Since its inception in 1984, It has been rendering valuable services to the society. We are committed to think anew about the purpose of education in the current scenario. The college strives to provide giving and getting information atmosphere, stressing upon equal opportunity to all, enhancing all around development of the personality of the students. We impart value- based education, enriching the students intellectually, spiritually and morally, preparing them to withstand the tough time ahead. We have achieved a number of milestones and set new targets for future.
In January 2009, the college was accredited as "A" grade college by NAAC and ours will be continual endeavour to reach the pinnacle of success.
With profound delight we launch the website of the college. It is a window to our little world, a reflection of our past achievements and echo into the future.
May Kanpur Vidya Mandir be ever blessed and grow from strength to strength in the years to come and march towards new horizons!
Dr. R. K. Bhadauria
President